Angelic reiki healing in Dubai is a spiritual healing practice that releases negative energy to fill the soul with love. Here's what you need to know.
Archangel Metatron describes Angelic Reiki as 'The New Healing for Our Time', and says it will be paramount in bringing one of the highest forms of healing to individuals, groups and the planet.
It is said that Angels work on the golden ray of true unconditional love and wisdom, and certainly, Angels have immeasurable love and compassion for us and for our planet, as we work through these times of huge turbulence and change which are causing us so much distress on personal, organizational, national and international levels.
Angels embody the Divine, and when the highest vibration of Divine Love is anchored into your own consciousness through a downpouring of Soul energy, you have the power to change your reality. If you wish to re-awaken your divine awareness, if you would like to change your life and become whole and healthy, embracing true joy, perhaps you will be drawn to Angelic Reiki.
The uniquely powerful complete system of healing that is Angelic Reiki has attracted considerable attention across the Globe. Increasing numbers of men, women and children from all walks of life are drawn to experience the profound healing and consciousness expansion that is the hallmark of Angelic Reiki treatments and training. Angelic Reiki helps to shift mental, emotional and spiritual stagnation, facilitating deep healing with rapid, unmistakeably positive results.
Angel reiki is a modern day alternative healing process that channels energy from the Angelic Kingdom of Light to release negative energy imbalances in the body.
Hands-on healing therapy that allows very high vibrational energies, known as intelligent 'Beings of Light' to work on the body
Help to release physical, ancestral, emotional and karmic imbalances in the body
A powerful yet gentle healing therapy for relieving negative energies that are harbored in the soul
Has the power to alleviate mental and physical pain from your body and mind
Angelic reiki healing in Dubai is a one of a kind healing experience to connect you with Divinity and the Higher Self
Unlike other forms of reiki, Angelic reiki channels energy from the Angelic Kingdom of Light for spiritual healing
Encourages reconnection with inner spirits and removes negative energy blocks that build up in the body over time.
State of the art healing modality that impacts extreme relaxation, warmth, love, peace, and tranquility to the soul
Especially effective in the areas of wellness and stress reduction
Question people eventually ask themselves:
Why do I feel so burned out and disconnected from this world? Why am I constantly burdened by negative energy? How can I find enjoyment and love in my life again?
The reason for this is a negative energy imbalance in the body which burdens the body and soul.
Angelic Reiki in UAE is all about healing the spirit, restoring its natural energy balance, and brining love, warmth, and tranquility.
Benefits of Angelic Reiki Healing in Dubai:
Hub of Consciousness offers Angelic Reiki in UAE channeled by Kevin Core. Discover these life-changing benefits from this divine healing:
Removes mental, emotional and spiritual stagnation
Provides more clarity of thoughts and awareness of your body-spirit connection
Removes negative repressed emotions and traumas
Relieves symptoms of stress such as headaches, pain, and fatigue
Heals disorders such as anxiety, depression, and insomnia
Restores the natural energy balance of the mind, body, and spirit and removes negative energy blocks
Encourages peace, relaxation, and calm
Fills your body and soul with unbounded feelings of love, warmth, peace, and purity
Helps you achieve greater awareness of your connection to the Divine and your Higher Self
How Can You Experience Angelic Reiki Healing in Dubai?
Angelic Reiki Healing sessions are conducted in a tranquil, safe and supportive environment and usually last around 60 minutes.
The practitioner creates a healing vortex and places their hands gently on the client's body. Healing energy that is perfect in its conception and transmission is accessed by the practitioner through the Angelic Kingdom of Light, and channelled to the client from a neutral space. When healing with Angelic Reiki is instigated, both the client and practitioner receive a downpouring of Soul energy, and divine Angelic Archetypes are anchored, causing a transformational shift in consciousness. Angels, Archangels, Ascended Masters and/or Galactic Healers then reach into the past to heal all memories of suffering. For the recipient, any old thought-forms not in-tune with the Divine Vibration become dislodged and transmuted to a higher vibration. Non-harmonious physical, emotional and mental conditions are relieved, promoting very deep healing and transformation which can bring about seemingly miraculous physical effects.
Every session is unique. What the client and the practitioner may see, feel, sense… varies considerably, and may be profound beyond words to describe fully.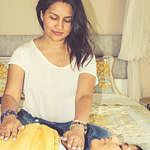 Meet Monisha Gurkar – Angelic Reiki® Master Teacher
Monisha is an Angelic Reiki® Master Teacher and Practitioner. Working on the physical, emotional, mental and spiritual bodies across different levels of consciousness and timelines, her work encompasses unearthing inhibiting bottom beliefs, clearing root causes of ailments and healing through her connection with the Angelic realm, Ascended Masters and Source.
Here at Hub of Consciousness, we are dedicated to ensuring you go through the healing and transformation you need.
Contact us to avail a free 20 minute consultation with Monisha now to learn more about how you can benefit from Angelic Reiki in UAE, and how spiritual healing can change your life for the better.
Visit our events calendar to find out about our upcoming Angelic Reiki Trainings.
Angelic Reiki is attracting people from all walks of life – those already involved in serving others through holistic modalities– as well as others who just know that Angelic Reiki is something they have to embrace now for self healing and transformation.
There are four levels of Angelic Reiki and all students commence at level 1 and 2 whether or not they have already learned another form of Reiki.
Training is conducted in a multidimensional space created by Angels, and every minute of involvement attunes participants, at every level, to the unique vibration that is Angelic Reiki. The powerful attunements are received direct from the Angelic Hierarchy.
Teaching includes how to merge with and direct very high vibrational Angelic energies in conducting different healing treatments where physical, ancestral, emotional and karmic imbalances can be released throughout all time and space.
Each training course is certificated, offering the option of working professionally with this healing modality.